>>
products
>>
Transmissions
>>
Beckert Technology Sequentials
6 Speed FWD Sequential
Nissan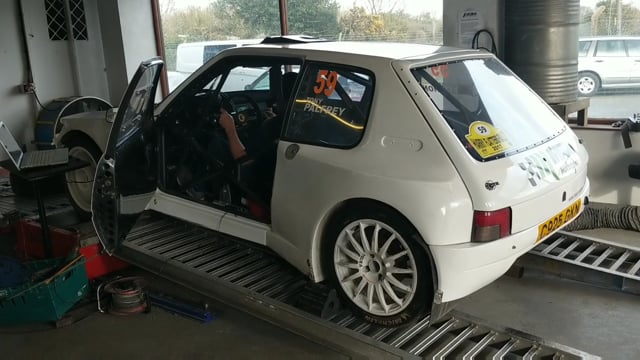 Flat Shift Mapping
C Satchell 205 hillclimb 1st test
A Soklic 306 FWD Seq
lever
spares
Click on image for a larger photo or video.
Beckert Technology universal 6 Speed FWD sequential gearbox.
Rated for 350NM (260lb/ft), and supplied with a one year warranty against shaft and gear teeth issues. (Higher torque ratings are possible with the longer final drive options).
Bellhousings can be produced to suit your engine choice, and are already available for Peugeot XU/TU/EW, Vauxhall/Opel XE, Renault JC5/TL4/JH3, Nissan Sunny, Ford Fiesta(IB5), Ford Focus MTX75, VW 1.4 16v, VW 2.0 16v, Lada Samara,Toyota 1.8 16v, Toyota Celica 2.0 16v, Suzuki Swift 1600, Mitsubishi Colt 1.3, and Honda B and D series.
6 speed and reverse, straight cut with dog engagement, hydraulic clutch bearing, and plate LSD.
The input and output shafts run on a three bearing set which minimises shaft flex and maintains gear on gear geometry - a significant advantage over the competition.
The kit comes complete with billet gear lever/connecting rods and rose-joints, output flanges, and universal mounting brackets.
The casing also runs a revised higher diff position which gives improved driveshaft angles for cars running a competition suspension set-up.
Satchell Engineering driveshafts and inner lobro joints can be supplied at extra cost, based upon customer measurements, and will be splined to suit your existing outer CV joints.
Gearbox sensor and dash display available as an optional extra.
Standard gear ratios:
1q: 2.636
2q: 2
3q: 1.667
4q: 1.438
5q: 1.235 / 1.278
6q: 1.05/ 1.1/ 1.136
FD: 3.0 / 3.81 / 4.08 / 4.3 / 4.67 / 5.0
Alternative ratios ideal for Rallycross-
1q: 2.909
2q: 2.455
3q: 2.083
4q: 1.769
5q: 1.533
6q: 1.375
Or homologated Honda F2 ratios as follows -
1q: 2.929
2q: 2.357
3q: 1.938
4q: 1.611
5q: 1.350
6q: 1.158
And a 4.69 final drive.
Supplied anodised silver with black/blue detail.
Weight: 35.5 kg
We can supply a full range of spare parts, and offer a maintenance/rebuild service via Satchell Engineering.
Option available for 50% deposit followed by 50% after assembly and prior to dispatch, please e-mail us to discuss.
Prices include UK VAT, and postage prices are for Mainland UK only.
Please contact us for a specific postage quote if you are enquiring from outside the UK, and we can proviude an invocie excluding UK VAT.
Product Price: £8778.60
plus carriage: £99.00
total : £8877.60
To order and pay via PayPal, please enter the quantity required and click the "Buy Now" button below. This will open up a new browser window.